2023
Coverage of Digital Futures: Infrastructure for Equity, Inclusivity, Sustainability symposium:
WS4D 2023 Coverage
2022
Video of demo presentation titled "Simulation of traffic scenarios using SUMO" based on Traffic Modeling and Simulation project at SUMO User Conference 2022. [YouTube link]
2021
Collaboration with IISc on IUDX project featured in the Digital First magazine. (Dec 15th, 2021)
Prof. Srinath Srinivasa was interviewed by the Center for IT and Public Policy, about his course called "The Web and the Mind" and the increasing relevance of Web Science in today's times. Podcast of the interview may be found from any of these locations:
Spotify
,
Apple Podcasts
,
Google Podcasts
,
Anchor
. (31 May 2021). 
Prof. Sowmya Narayanan Sadagopan, Director, IIIT Bangalore and Prof. Srinath Srinivasa, Dean (R&D), IIIT Bangalore will be participating in a unique webinar "Future of IT Education" on Mar 03rd 2021 at 4.30 pm, where they will be interviewed by Annurag Batra, Chairman & Editor-in-Chief of BW Business world media group.
Prakhar's Interview with Educlasses. Educlasses.co.in is an Online Platform cum Blog for online study. They have more than 185 interviews with industry experts, researchers, bloggers, educators, etc. The interview focused majorly on Prakhar's learning and experience in AI/ML domain.
2020
Prakhar's Intel Blog Links
2018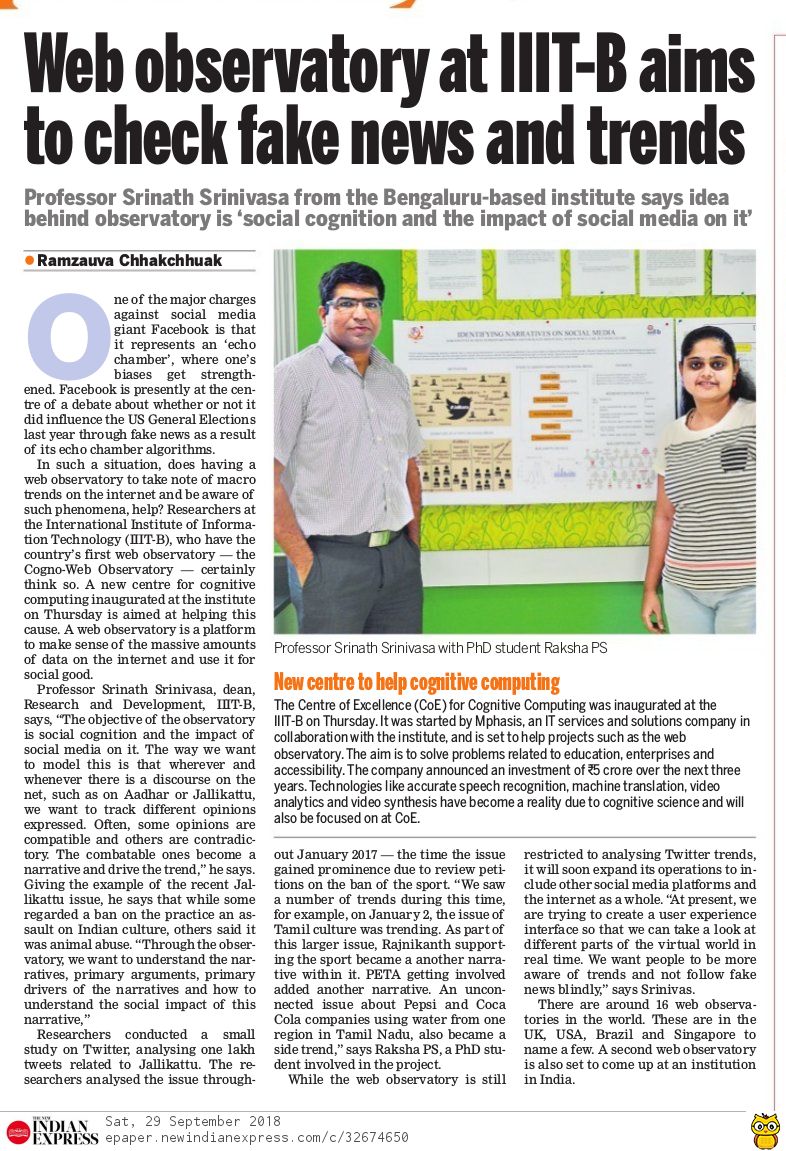 29 Sept 2018. Article about Web Observatory mentioned published by New Indian Express. [link]